Want to find the best place to stay in Forbesganj? We have options for everyone, irrespective of whether you wish to vacation lavishly or on a shoestring budget.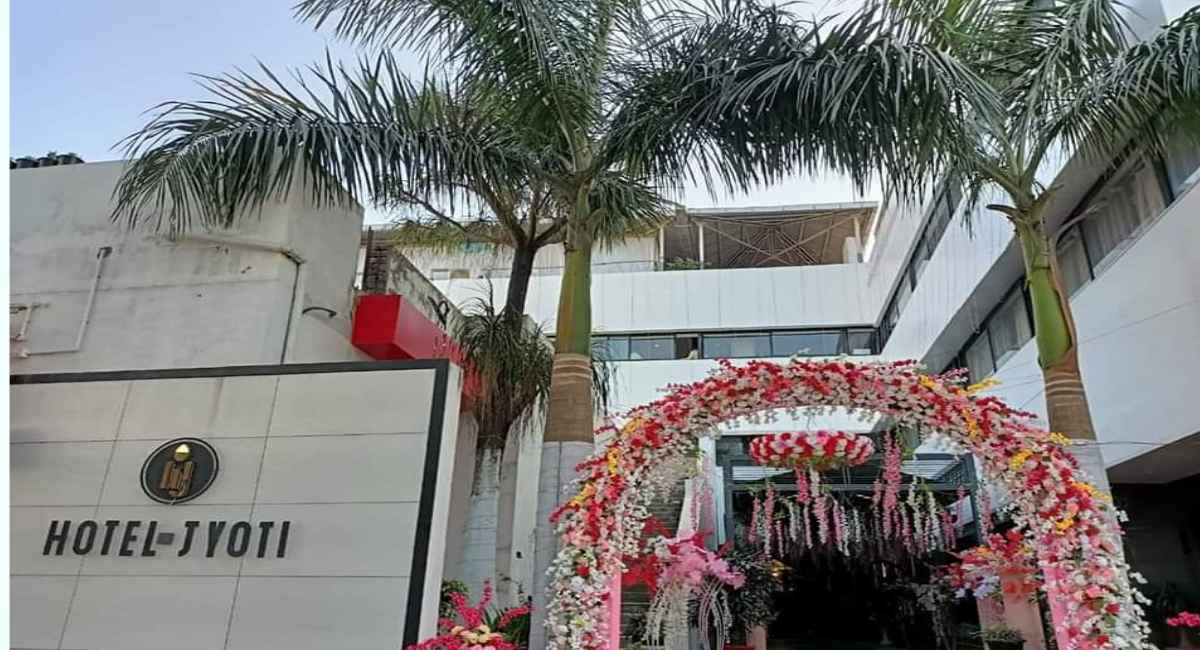 From the luxurious Hotel Jyoti Forbesganj, where luxury has no limits, to the charming and cheap Hotel Maurya Pride, and finally, to the Hotel Sanchita Palace Forbesganj, which is a hidden gem, you're in for a journey full of unforgettable moments. So sit back, take it easy, and let us show you around these amazing rooms.
Forbesganj Hotel List for All Travelers
Luxury Hotels in Forbesganj
There are a few options in Forbesganj that provide travellers looking for a touch of luxury with comfortable lodgings and a variety of amenities. Although Forbesganj may not be generally recognized for its luxury hotels, there are a few options available. 
 Here are some of the top luxury hotels in Forbesganj:
1. Hotel Jyoti Forbesganj
Price: Starting from ₹2,689 per night

Rating: 4.1 (1,610 reviews)
Amenities: Hotel Jyoti Forbesganj is a 2-star hotel that offers a range of amenities, including breakfast (additional cost), free Wi-Fi, free parking, air conditioning, an on-site restaurant, room service, full-service laundry, and a business centre. These amenities ensure a comfortable stay for guests.
Key Features: While not a traditional luxury hotel, Hotel Jyoti Forbesganj provides a pleasant and convenient stay for visitors to Forbesganj. Its prime location makes it accessible to various attractions in the area.
2. Hotel Maurya Pride 
Price: Starting from ₹2,086 per night

Rating: 4.1 (205 reviews)
Amenities: Specific amenities for Hotel Maurya Pride should be listed in the provided information. However, it is advisable to contact the Hotel directly or visit their website for detailed information.
Key Features: Hotel Maurya Pride offers comfortable accommodations, but additional information about its key features is not available in the provided details.
Please note that Forbesganj is a relatively small town, and luxury accommodations may not be as prevalent as in larger cities. These options provide comfortable stays with essential amenities, but they may offer less luxury services found in upscale hotels in major metropolitan areas. Prices and availability are subject to change, so it's a good idea to check with the hotels directly for the most up-to-date information and availability.
Mid-Range Hotels in Forbesganj
For travellers seeking a balance between comfort and affordability, Forbesganj offers a selection of mid-range hotels that provide decent amenities and services. Here are some mid-range hotels in Forbesganj:
3. Hotel Sanchita Palace
Category: 2-Star Hotel

Rating: 3.5 (541 Ratings)

Location: Jummal Chawk, Forbesganj
Amenities: Hotel Sanchita Palace offers room service to cater to guests' needs during their stay. While it is a mid-range hotel, it provides comfortable accommodations at a reasonable price point.
Price Range: Mid-range
4. Hotel Aditya
Rating: 3.7 (450 Ratings)

Location: S K Road, Forbesganj
Amenities: Hotel Aditya provides room service and additional services such as wake-up calls, courier, postal, and parcel services, and bike rentals. These services cater to the convenience of guests.
Price Range: Mid-range
5. Blue Diamond Hotel
Rating: 4.0 (157 Ratings)

Location: Sadar Road, Forbesganj
Amenities: Blue Diamond Hotel is rated higher among mid-range options and offers comfortable accommodations. While specific amenities are not mentioned in the provided information, it is a reliable choice for mid-range travellers.
These mid-range hotels in Forbesganj offer a comfortable stay without breaking the bank. While they may not provide the luxurious amenities of high-end hotels, they cater to the basic needs of travellers at an affordable price point. Prices for mid-range hotels typically fall within the range of Rs 501 to Rs 1000 per night.
It is important to note that pricing and availability are subject to change; therefore, it is best to get in touch with the hotels directly or visit their websites in order to obtain the most recent information, as well as any travel deals and packages that may be available.
Budget-Friendly Hotels in Forbesganj
For budget-conscious travellers visiting Forbesganj, several budget-friendly accommodation options offer clean rooms and basic amenities. These hotels and guest houses are suitable for those looking to minimize accommodation expenses while still enjoying a comfortable stay. Here are some budget-friendly options:
6. Alisha Rest House
Rating: 3.5 (49 Ratings)

Location: Sadar Road, Forbesganj
Price Range: Hotels in this category typically fall within the range of Rs 501 to Rs 1000 per night.
Review: Guests have praised the excellent service provided by Hotel Alisha in Forbesganj.
7. Asian Guest House
Rating: 3.9 (10 Ratings)

Location: Sadar Road, Forbesganj
Price Range: Hotels in this category typically fall within the range of Rs 501 to Rs 1000 per night.
8. Asian Guest House
Rating: 4.0 (9 Ratings)

Location: 77W7+XG2, Sadar Rd, Forbesganj, Bihar 854318
Contact: 094316 11580
9. Hotel Radha Rani
Rating: 4.1 (38 Ratings)

Location: Rajendra Chowk Ward no 10, Po+Ps, Forbesganj, Bihar 854318
Contact: 088775 43360
These budget-friendly hotels and guest houses offer cost-effective accommodations with clean rooms. While they may not provide extravagant amenities, they serve as practical choices for budget travellers. They are often conveniently located, allowing easy access to transportation options and local eateries.
As prices and availability may vary, it's advisable to contact the hotels directly or visit their websites for the most up-to-date information and to inquire about any special offers or packages for budget travellers.
How to Choose the Right Hotel in Forbesganj
Choosing the right Hotel in Forbesganj, or any destination, involves careful consideration of various factors to ensure a comfortable and enjoyable stay. Here are some tips and factors to consider when selecting a hotel:
Location:
Consider the Hotel's proximity to your primary destinations. Are you travelling for business, leisure, or an event? Choose a hotel that is conveniently located near your points of interest, whether it's the city centre, airport, railway station, or specific attractions.
Safety is paramount. Research the safety of the neighbourhood where the Hotel is situated, especially if you plan to explore the area at night.
Budget and Pricing:
Set a budget for your accommodation and stick to it. Forbesganj offers a range of hotels, from budget-friendly to luxury options. Determine how much you are willing to spend per night. Be flexible with your travel dates, as hotel prices can vary depending on the season and demand.
Guest Reviews and Ratings:
Read guest reviews on platforms like TripAdvisor, Booking.com, or Google Reviews. These reviews provide insights into the real experiences of previous guests.
Pay attention to both positive and negative feedback to get a balanced view of the Hotel. Consider factors like cleanliness, service quality, and overall guest satisfaction.
Hotel ratings, often on a scale of 1 to 5 stars, can serve as a quick reference point for quality. Higher-starred hotels generally offer more amenities and better services.
Amenities and Services:
Make a list of amenities that matter most to you, such as free Wi-Fi, complimentary breakfast, parking facilities, room service, a fitness centre, or a swimming pool. Check if the Hotel provides any special services you may need, such as airport transfers or business facilities.
Booking in Advance:
Booking your Hotel well in advance can help you secure better rates and guarantee room availability, especially during peak travel seasons or events.
Look out for early booking discounts or special promotions offered by the hotel or booking platforms.
Cancellation Policies:
Understand the Hotel's cancellation policy before booking. This is crucial in case your travel plans change unexpectedly. Some hotels offer flexible cancellation options, while others may have stricter policies.
Check for Special Discounts:
Look for discounts or special deals provided by the Hotel or booking websites. These may include promotional codes, loyalty program discounts, or package deals that combine accommodation with other services.
Accessibility and Convenience:
Consider factors like accessibility for people with disabilities, as well as the availability of elevators or ramps.
Check if the Hotel offers free shuttle services or has easy access to public transportation.
Local Recommendations:
Seek recommendations from friends, family, or colleagues who have visited Forbesganj before. They may have valuable insights and suggestions.
Compare Multiple Options:
Don't rush your decision. Compare multiple hotels based on the criteria that matter most to you. Use Hotel booking websites to filter and compare options.
By carefully evaluating these factors and conducting thorough research, you can choose the right Hotel in Forbesganj that aligns with your preferences and ensures a comfortable and memorable stay.
Forbesganj Hotel Booking Options
Booking hotels in Forbesganj can be done through various methods, each offering its advantages. Here are the primary methods for booking hotels in Forbesganj:
Online Booking Platforms:
Hotel Booking Websites: There are numerous Hotel booking websites such as Booking.com, MakeMyTrip, Goibibo, Agoda, and TripAdvisor. These platforms allow you to search for hotels in Forbesganj based on your preferences, budget, and travel dates. You can view hotel details, guest reviews, and photos before making a reservation.
Mobile Apps: Many of the platforms mentioned above have mobile apps that make it convenient to search for and book hotels on the go. These apps often provide exclusive discounts and offers.
Online Travel Agencies (OTAs): OTAs like Expedia and Kayak also offer hotel booking services. They aggregate hotel listings from various sources, providing you with a wide selection to choose from.
Direct Reservations:
Hotel Websites: Most hotels in Forbesganj have their official websites where you can directly book rooms. Booking directly with the Hotel allows you to communicate specific requests or inquire about special offers.
Phone Reservations: You can call the Hotel's front desk or reservation hotline to make a booking over the phone. This method is helpful if you have specific queries or if you prefer a more personalized booking experience.
Email Reservations: Some hotels accept reservations via email. You can send an email to the Hotel's designated email address, providing your booking details and preferences.
Contact Details:
When booking a hotel, it's essential to have the Hotel's contact details readily available. This includes the Hotel's phone number, email address, and physical address. You may need this information for inquiries, special requests, or to confirm your reservation.
Forbesganj hotels often display their contact details on their official websites or various hotel booking platforms.
Exclusive Deals and Packages:
Keep an eye out for exclusive deals and packages offered by hotels or booking platforms. These may include:
Early Booking Discounts:

 Hotels offer reduced rates if you book well in advance.

Last-Minute Deals:

 If you're booking on short notice, some hotels may provide discounts to fill empty rooms.

Package Deals:

 Hotels may bundle accommodations with other services like meals, airport transfers, or local tours, providing cost savings.

Loyalty Programs:

 Some hotel chains have loyalty programs that offer members special rates and perks.

Promo Codes and Coupons:

 Look for promotional codes or coupons on hotel booking websites that can provide additional discounts.
Payment Methods:
Be sure you are informed of the many forms of payment that the Hotel accepts.
Most hotels accept credit/debit cards, but it's essential to confirm this in advance. Some may also accept online payment wallets or cash.
Conclusion Points
In conclusion, Forbesganj has a variety of hotels to meet the needs of all kinds of visitors. With hotels like Hotel Jyoti and Hotel Maurya Pride, which have high-end amenities and services, and hotels like Hotel Sanchita Palace, which are more affordable, visitors can find a place to stay that fits their needs and income.
Whether you are in Forbesganj for work or pleasure, these hotels have comfortable rooms, helpful staff, and good locations. So, if you're planning a trip to Forbesganj, check out these places to make sure you have a great time in this beautiful city. Book your stay today and see what Forbesganj has to offer at its best!
FAQs
What services does Hotel Jyoti Forbesganj offer?
There are comfy rooms, room service, free Wi-Fi, a restaurant, and parking at the Hotel Jyoti Forbesganj.
Is the Hotel Maurya Pride good for people who are travelling for business?
Yes, business travellers can stay at the Hotel Maurya Pride because it has meeting rooms, a business centre, and high-speed internet.
Is there a swimming pool at Hotel Sanchita Palace Forbesganj?
No, there is no pool at Hotel Sanchita Palace Forbesganj. It has large rooms, a diner, and a front desk service that is available 24 hours a day.
Are there any places to visit nearby that are close to these hotels?
Yes, there are many things to do nearby, such as the famous Forbesganj Fort, the Mahadev Mandir Temple, and the Bada Bazaar, which is great for shopping.
Can I count on getting excellent customer service at these hotels?
Yes, all of the hotels listed above in Forbesganj put great customer service at the top of their list of priorities so that their guests have a wonderful stay.
Does the Hotel Jyoti Forbesganj pick up and drop off guests at the airport?
Yes, the Hotel Jyoti Forbesganj will pick you up and drop you off at the airport if you ask ahead of time. This will make your trip easier.
Does any of these hotels offer choices that are easy on the wallet?
Yes, if you're looking for cheap places to stay in Forbesganj, the Hotel Sanchita Palace is a good choice because it doesn't skimp on comfort or basic services.
Do these hotels have places for people to do laundry?
Yes, all of the hotels on the list have washing rooms so that their guests can do their laundry while they are in Forbesganj.