Are you sick and tired of having to wait for a long time, receiving care that is impersonal, and going to poor medical facilities?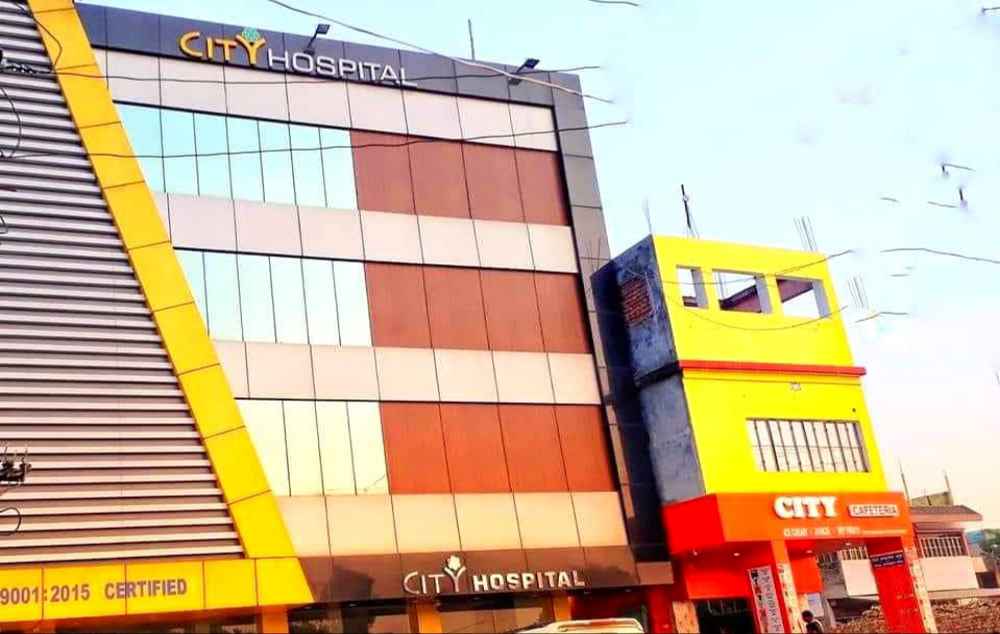 There is no need to look any further than City Hospital Araria, which is your reliable destination for medical care. The hospital, which is located smack dab in the middle of this bustling city, is leading the charge to transform the method by which medical treatment is provided.
The hospital dedicated to giving you an unmatched experience that places a high priority on your health by utilising cutting-edge technology, a group of world-renowned medical professionals, and a methodology that is centred on the patient.
In the event that you require emergency services, specialised treatments, or even just routine checkups, City Hospital Araria is here to assist you. Put an end to the unpredictability of medical care and welcome in a new era of individualised treatment!
City Hospital Araria
City Hospital Araria is a healthcare facility located in Araria, Bihar. Here is some information about the hospital:
History and Establishment:
City Hospital in Araria was established on 15 July 2019. Since its establishment, it has been providing healthcare services to the residents of Araria and the surrounding areas.
Mission and Vision:
While specific details about the hospital's mission and vision should be provided in the information, hospitals typically aim to provide high-quality medical care, promote health and well-being, and offer a range of medical services to meet the needs of their community.
Range of Healthcare Services Offered:
City Hospital in Araria offers a range of healthcare services. These services include but may not be limited to:
Orthopaedic Surgery: The hospital has an orthopaedic surgeon, Dr. Sarfaraz Alam, who is available for various orthopaedic procedures. These may include surgeries related to arthritis, trauma, spine deformities, Pott's spine, spinal surgery, bone fractures, osteomyelitis, bone tumours, developmental deformities, connective tissue disorders, nerve problems, and more.
General Physician Services: City Hospital also has a General Physician, Dr. Asif, who provides medical care and consultation for a wide range of general health issues.
Operating Hours:
City Hospital operates 24 hours a day, providing medical care and services round-the-clock to ensure that patients can receive treatment when needed.
Contact Information:
Address: Hospital Road, Zero Mile, Araria, Sisauna, Bihar 854311
Phone: 093349 24553
Please note that the hospital's services and offerings may have evolved or expanded since the provided information. If you are seeking specific medical services or have inquiries about the hospital's facilities, it is advisable to contact them directly for the most up-to-date information.
Patient-Centric Approach:
Focus on Patient Comfort and Well-being: City Hospital Araria places a strong emphasis on ensuring the comfort and well-being of its patients. Individuals who are in need of medical care will find that the hospital is dedicated to providing a kind and encouraging atmosphere for them.
Testimonials and Success Stories: While specific testimonials and success stories are not mentioned in the provided information, many hospitals often feature patient testimonials on their website or in promotional materials to showcase positive patient experiences and successful outcomes.
Patient Support Services: City Hospital Araria may offer various patient support services to enhance the overall patient experience. These services can include assistance with appointments, guidance on medical procedures, and support for patients and their families during their hospital stay.
Emergency Care and Critical Services:
Immediate Medical Attention: City Hospital Araria is equipped to provide immediate medical attention to patients in need of emergency care. The hospital has the necessary facilities, equipment, and medical professionals to handle critical medical situations.
Availability of Emergency Helplines: While specific emergency helpline numbers are not provided in the information, hospitals typically have emergency contact numbers that patients and their families can call in case of urgent medical situations.
Handling Critical Medical Situations: City Hospital Araria is prepared to handle critical medical situations such as accidents, trauma cases, and other emergencies. The hospital's medical staff is trained to respond swiftly and efficiently in such situations.
Community Engagement:
Hospital's Involvement in the Local Community: City Hospital Araria may actively engage with the local community through various healthcare initiatives, health camps, and community outreach programs. Hospitals often aim to promote health awareness and well-being within their communities.
Health Awareness Programs and Initiatives: The hospital may organise health awareness programs, health camps, and educational sessions to promote health and wellness among the local population.
These initiatives can cover topics like preventive healthcare, nutrition, and disease management. Collaborations and Partnerships: City Hospital Araria may collaborate with local organisations, healthcare institutions, and government agencies to further enhance healthcare services and address community health needs.
Location and Accessibility:
Address and Contact Information: City Hospital Araria is located at Hospital Road, Zero Mile, Araria, Sisauna, Bihar 854311. Patients and visitors can reach the hospital at the contact number 093349 24553.
Directions and Ease of Reaching the Hospital: The hospital's location is accessible, and directions can be obtained through various navigation apps or by contacting the hospital directly. It is advisable to use GPS or maps to reach the hospital conveniently.
Parking and Transportation Options: While specific information about parking and transportation options is not provided, hospitals typically have parking facilities for patients and visitors. Additionally, the hospital's location may be accessible by public transportation, such as buses or taxis.
For specific details about patient services, testimonials, emergency contact numbers, community initiatives, and transportation options, it is recommended to contact City Hospital Araria directly or visit their website instead for information that is both factual and up to date, if you choose.
Conclusion Points
In conclusion, City Hospital Araria is the most reliable destination for medical care for people living in Araria and the areas immediately surrounding it.
The hospital guarantees that patients receive high-quality care in a setting that is both pleasant and compassionate by utilising facilities that are on the cutting edge of medical technology, medical personnel who have years of expertise, and a comprehensive range of specialised services.
City Hospital Araria has established itself as a trustworthy source of medical care throughout the area by offering a comprehensive range of services, from urgent care to the most cutting-edge surgical procedures. Patients can have faith that City Hospital Araria will provide superior medical care with the utmost commitment, no matter the nature of the treatment they require, be it a simple checkup or something more involved.
If you choose City Hospital Araria for any of your healthcare requirements, you will receive first-rate treatment on a level not seen anywhere else in your life.
FAQs
1. What services does City Hospital Araria provide?
The City Hospital Araria offers a comprehensive selection of medical care, which includes emergency treatment, general medicine, surgical procedures, and paediatric care. 
2. What are the visiting hours for patients at City Hospital Araria?
Visiting hours for patients at City Hospital Araria are from 4:00 pm to 7:00 pm every day.
3. Does City Hospital Araria accept health insurance?
Yes, City Hospital Araria accepts most major health insurance plans. Please consult your insurance provider for detailed information regarding coverage details.
4. Are there specialised clinics available at City Hospital Araria?
Yes, City Hospital Araria has specialised clinics in cardiology, dermatology, neurology, and diabetes management, among others.
5. How can I make an appointment at City Hospital Araria?
To make an appointment at City Hospital Araria, you can call our helpline number or visit our website and fill out the online appointment form.
6. Are there parking facilities available at City Hospital Araria?
Yes, City Hospital Araria has ample parking space available for patients and visitors.
7. Does City Hospital Araria have a pharmacy on-site?
Yes, we have a well-stocked pharmacy within the hospital premises to cater to all your medication needs.
8. Can I access my medical records online at City Hospital Araria?
Yes, an online patient portal via which they can safely access their medical data and test results at any time and from any location.